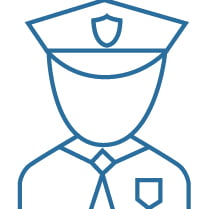 Physical Security
Our always available physical security solutions are customized to fit the needs of each individual client. Ensuring that you and/or your property are protected.
Security Consulting
Identify and minimize vulnerabilities in physical security programs through a comprehensive assessment and plan to meet your business objectives.
24/7   365 Service
Your need for security doesn't stop at the end of the business day. Problem situations can arise at any hour, day or night and we'll be available with the protection you need.
Extensive Experience
Oatridge Security Group's diverse technical capabilities include virtually every aspect of the security services industry, including armed and unarmed security officers, vehicle and foot patrols, access control, executive protection, and monitoring services.
Security Services
Oatridge Security Group is your one stop shop for all corporate, executive and business security needs. Whether you need security guard personnel to protect your business from unwanted visitors or an overall security consultation to determine what areas of your business security need to be upgraded or staffed higher. There's no need to deal with multiple businesses for your various security needs when we do it all! These are the main services we provide, among others:
Security Guards
Physical Security
Security Consulting
Vehicle and Foot Patrols
Executive Protection
Monitoring Services
Access Control
Security Company
We are HUBZone certified and located in Tacoma, Washington so we have easy access to any major city in King or Pierce County. Our staff is not only equipped to help you stay secure and within the requirements for commercial and government security for your city, county or the state of Washington, but we bring an extremely high level of expertise and experience to help you exceed the minimum requirements and have true peace of mind. With over 17 years of operating history and more than 100 combined years of security experience across our leadership, there's no security risk we can't mitigate.
We also have 24/7 staff and support available. If you've got an issue you can contact us anytime, we are here every day of the year to serve our existing customers and help you if an issue arises. A security breach or concern can happen at any time so we maintain our availability throughout the year. Our security officers and support staff are always here for your security needs.
Security Guards
If you are in need of physical security guard services, or an overall security defense system consultation, we'd love to chat with you and determine the best plan for your needs and budget. You can contact us here online or call our office line at (253) 461-1622 with any questions you have, or the need you've already determined. We'll help develop a plan to keep your commercial, corporate or government assets safe and not just patch the security risks you have already identified, but make sure that you know about every facet of your business that may need additional security and help prioritize what is most important, or do it all! Please contact Oatridge Security with your security need so we can get started.